Hello and welcome to the world of Hibernator Gigs! Here you can find news about the latest releases on our record label, stream our videos, and generally stay updated on the all the goings on in the Hibernator Gigs universe!
We're particularly excited right now about the recent announcement of our latest vinyl release, the Songs In The Key Of Bob compilation 7″, featuring contributions from some of our favorite bands, all writing and recording original jams in the style of Guided By Voices. Be sure to check out our Bandcamp page where you can stream the comp and pre-order the vinyl before the April 30th release date!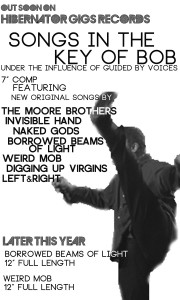 We have lots of things currently in the works: some more music videos, a brand new release by our homies Borrowed Beams of Light, and a new sketch comedy web series! Watch this space in the weeks and months to come! It's gonna be a big year at HG HQ! See you all soon!
– Hibernator Gigs