When it came time to choose where we wanted to have our first release, Songs In The Key Of Bob, pressed to vinyl, it was, fortunately, not a difficult decision to make. Musicol, the Columbus, Ohio pressing plant/recording studio, which was recently highlighted in a Pitchfork feature, was clearly the obvious choice. Musicol is one of the few "one-stop-shop" facilities left in the world, where a band can record their music, mix it, master it, and have it pressed all under one roof. It's a real testament to the Midwestern DIY spirit and aesthetic and since that's sort of what we were trying to capture with Songs In The Key Of Bob it just made sense.
Well, that, and the fact that they were responsible for pressing things like this: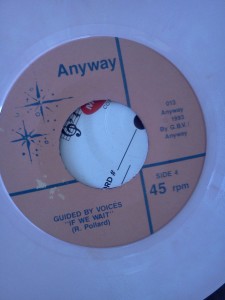 That's right, the 1993 split single from GBV and Jenny Mae on Anyway Records! Pretty rad. According to Warren from Musicol, they also pressed the very first Guided By Voices single. I have not yet been able to verify that but the fact that Musicol pressed the first single by my own Ohio '90s indie pop band, The Cusacks, is good enough for me.
So, Renee and her Mom and I all visited Musicol on Friday May 3rd, both to check the place out and to check on the status of our records. Warren was happy to show us that we were 13th out of 13 orders ready to go before he left for his vacation! Phew! Just barely made it! Warren showed us around the building, taking us into the main studio which was built in 1966 and basically looks like what would result if your Grandpa tried to recreate Abbey Road Studios in his den – minus the bowl of Fiddle Faddle! We also came across said Grandpa, Warren's 84 year old Dad, John, who opened the place back in 1966 and still works there to this day, cutting a master for an electro-ambient-drone record, listening to the same spot over and over again to make sure everything sounded right.
The highlight of the visit was a trip into the basement of Musicol where the actual vinyl is melted down and pressed and where the labels are baked in a giant pizza oven. Here we came across a basket of discarded vinyl, awaiting recycling: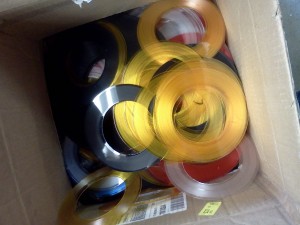 The Musicol dudes were hard at work pressing the new Man Or Astroman 7″ on orange vinyl and Warren poured some of the vinyl beads into our hands: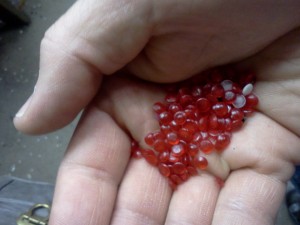 Later he grabbed a still soft and hot glob of orange vinyl, wrapped it in a paper towel, and handed it to us to take home. It's since hardened into a nice paperweight: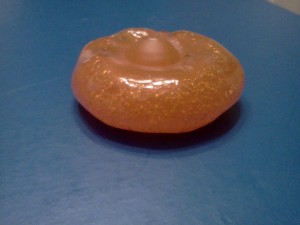 We also got to see the sweet labels designed by Thomas Dean, awaiting baking in the giant pizza oven. It was pretty rad to see them all stacked up and to see the final colors:
It was awesome to see the inner workings of the place and we even got some free T-shirts out of the deal. Thanks go out to Warren and all the Musicol dudes for their hospitality and hard work on our project!
Later that night we played a show at the Tree Bar in Columbus with our buds Kyle Sowash and Sam Craighead. We played some Weird Mob jams, some Hilarious Posters tunes, a Loud Family cover, and some Cusacks songs. My old Cusacks bandmate, Travis Kokas, even got up to sing a song with me:
Now we're back in Virginia, gearing up for the big Songs In The Key Of Bob release. And if you're wondering how the finished product looks, we got them this past Friday, they look sweet, and you're definitely gonna want one…possibly two or three:
Remember you can stream and pre-order the comp here! Looking forward to getting these things in your hands! See you all soon!
– HG