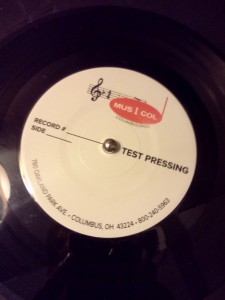 The test pressings for the Songs In The Key Of Bob 7″ have arrived and they sound great! Thanks to Warren and the dudes at Musicol! We can't wait to see and hear the real thing!
This Friday, April 26th, two of the bands who appear on the comp will be playing together at Random Row in Charlottesville, VA. It's the Left & Right "93" EP release part and Borrowed Beams of Light and Girl Choir will be opening the show! Check out the sweet flier made by Thomas Dean and Marie Landragin: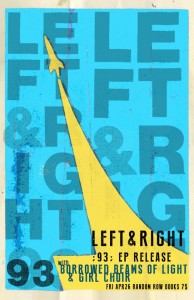 Borrowed Beams of Light have been busy this month! Here's a video of the band playing an acoustic version of "Rewind" from the debut EP last Saturday at the Old City Cemetery in Lynchburg as part of an event organized by Speakertree Records:
This weekend the Beams will be heading into the studio to begin work on their forthcoming full length which will be out on Hibernator Gigs Records sometime later this year! Watch this space for more details! See you all soon!
– HG