Borrowed Beams Of Light – On The Wings Of A Bug from Hibernator Gigs on Vimeo.
Wings of a Bug Video BTS!
Our most recent video, "On the Wings of a Bug," made for the first single off the Borrowed Beams of Light album needed to be shot, edited, and animated fast so that we could meet a promotional deadline. Ideally, it wouldn't have included night shoots, people with busy schedules, and techniques that we had to learn and execute on the fly. But hey, that's the DIY life. In an effort to put back a little knowledge into the world we've learned so much from, here is a breakdown of the process we went through to make this video. I hope it's informative and a little interesting. At the very least, it will be fodder for people who know how to do all this stuff better than we do.
EQUIPMENT:
Cameras: Canon T3i, Canon S100
Lens: Canon EF 17-55mm f3.5-5.6 T3i kit lens, Canon EF 50mm f1.8
Lights: LED light, ring light
Misc: gaffer's tape, sheet
Edited/Animated on an iMac, and a MacBook Pro using Adobe Production Premium CS5.5
PROCESS:
Typically we prep, shoot, log, edit, use Dynamic Link to move between Premiere and After Effects, and that's it. We had to modify our usual more collaborative process because of time constraints and using the two computer setup so we could both be animating at the same time.
PREP/PREVIZ:
Along with all the stuff that goes on in our heads–coming up with a concept, listening to the song, breaking the song down into its verse/chorus structure, noting where the song has to sync with the video, and making sure our concept has enough to it that we can make enough video without being boring or repeating ourselves (a personal bias)–we bring the song into Premiere before we've even shot anything and look at where we want edits to go. Are there beats or guitar riffs that stand out and can the song match edit or concept-wise? We block these out using solid layers in Premiere. Then as we edit and tweak they eventually get replaced with clips. If there's something we really need to remember, we put in a title with notes. This method is handy because it helps you to remember if there was anything you wanted to preserve, and it's really easy to see how many shots need to be edited in and where. Also, if we are working on two computers, we can see how long a shot needs to be.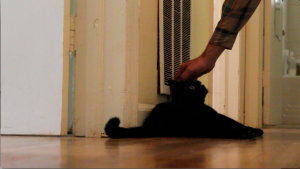 Once we know about how many shots we can even fit in a certain part of a song and how quickly the action needs to happen, we make a list of the shots we need to get and include anything we need to remember. What this list doesn't usually include is shot framing or other information that would be in a storyboard, because we are a run-and-gun outfit. We just decide that when we get to wherever we're shooting.
THE TEST SHOTS:
It's safe to say that we learn a little with every video we make, but this one was intimidating because we envisioned an end result that we weren't even sure we could figure out how to do. Thus the test shot.
ANIMATING THE ORBS:
CG elements: who doesn't love 'em?! Figuring out the orbs took hours of googling, watching YouTube videos, reading forums, all that great stuff you do when there's no one around to show you how to do something with nothing. And neither of us wanted to buy any plugins or other software that would make our lives easier, so after a couple soul-crushing days trying to figure out if I could export a 3D object out of Blender and get it into After Effects somehow, we abandoned that for a 2D object that we fudged the scale to simulate the Z axis. It took more effort, but you know, we kinda made it work.
SHOOTING:
We have a little gear, but really all of it fits inside two big plastic bins, so we bring everything we got to a location unless we're shooting without permits. Then it's just the camera and maybe two lenses. With a music video, we don't have to worry about sound as much, and when we've needed playback for someone to lip sync to, we just play it on an iPhone. Once it was too loud for the subject in the shot to hear the song without the phone pressed to his head, so we had another person off-camera hold the phone up to his ear and just sing out loud along with the lyrics so the on-camera person could hear. Music videos will spoil you, because dealing with sound is a pain.
THE RING LIGHT:
I have wanted a ring light for at least a year, and I think I came up with this design in a dream or something. Go here for a tutorial! I think the light worked really well in this shot and the circular catch light helped sell the orbs.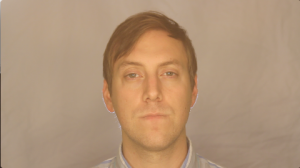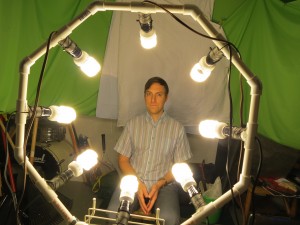 GREEN SCREEN:
I'd been saving my 7 day trial subscription to Video Blocks until we had a project that I definitely needed footage that we couldn't get anywhere else. The TV show is meant to be a soap opera in a tropical location. Our green screen is big, but in a small basement room. We rigged 600 watt's worth of incandescent bulbs as high as we could get them to match the sunlight of the stock footage. Other than the green spill that is hard to avoid in such a small space, this is our most successful green screening yet. Our actors/band members were born to play those roles!
LOGGING:
We spend a lot of time logging footage, and usually on paper. We haven't used a slate so far, instead opting to log file numbers instead. I figure if we have to look at all of it anyway, there isn't much point in using a slate, though I would guess it's probably one of the many things that acts as a trigger to get people set when you're shooting. Metadata-wise, I'm just as happy to log together on our TV. Since we don't have an external monitor, sometimes it the first time the director has even seen the shots. We log the clips in detail and have a rating system where we track the best couple versions of each take, noting especially how they are different (for instance an action happens faster). This becomes important in the edit when we need something to happen faster to fit with the cuts of the song. This is also where I start to envy people who don't have to constantly worry about cutting on a bet and can let shots play out when they need to (though occasionally we buck our system and do that).
EDITING:
Since we knew there would be animation in almost every shot, we decided to do a complete edit before animating so that we could save time and only animate the frames that were going to go in. This is another place that the color layers that stand in for shots came in handy because we had a couple shots that were purely animated. The placeholders helped us figure out how long the totally animated shots needed to be.
That's about it! Bottom line, I hope everyone enjoys Brock's nips.